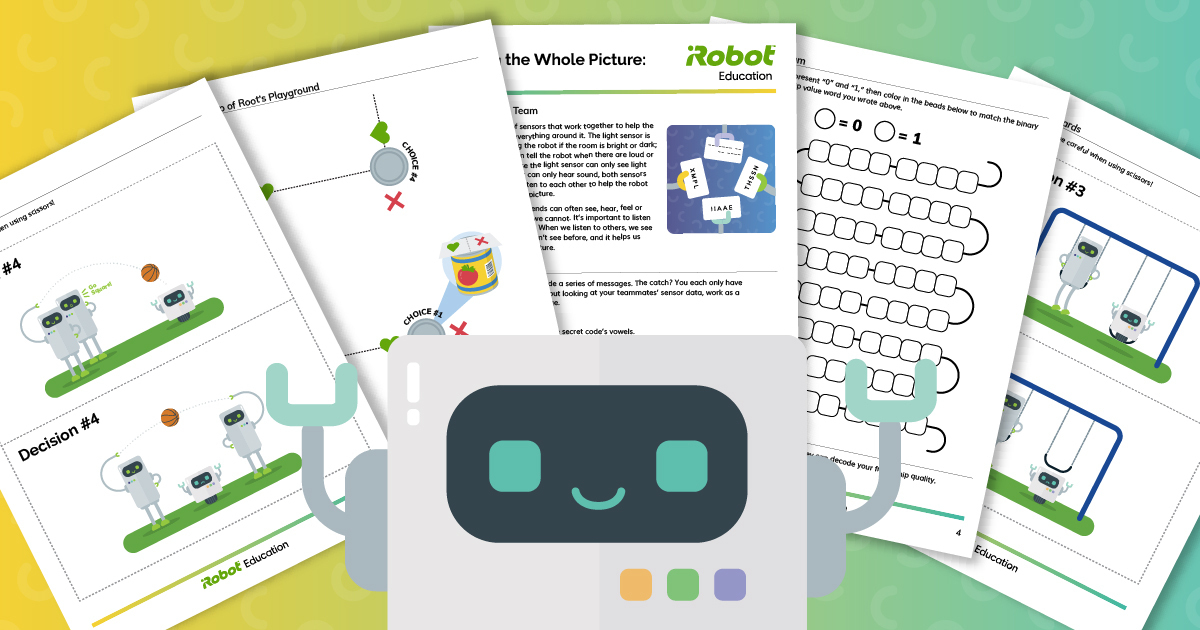 As an advocate for teachers and proponent of Social and Emotional Learning (SEL), iRobot™ Education is excited to share the expansion of our Learning Library to include a category dedicated to SEL. Though our activities generally encourage peer interaction and collaboration, our team is renewing our commitment to content design that incorporates and emphasizes SEL competencies. This category will be available at no cost and continue to be developed on an ongoing basis.
What SEL Resources Will You Offer?
Our aim is to support teachers by providing resources that will tie SEL competencies into coding and STEM curriculum. In the coming weeks, we will be releasing various activities including:
The Unfair Playground – Code your robot to decide between fair and unfair choices using the iRobot® Coding App's variable blocks.
BFB (Best Friend Bot) – Discover binary code as you program your Best Friend Bot's character traits, including attributes of fairness, silliness and the ability to listen!
Seeing the Whole Picture – No one person has all of the answers! This activity encourages learners to listen to their teammates perspectives in order to crack-the-code.
Navigating Conversations – Game shows meet coding. Navigate your robot around a grid to answer tough questions, spark discussion and clear the board!
Our Group (Data) Picture: A class is a rainbow of similarities and differences! Create a data mural class picture and step back to let all of those unique colors shine. (Coming Soon!)
In addition to developing our own SEL activities, iRobot™ Education will also promote others' activities, games and lessons on our social media channels.
Some of the SEL champions who inspire us include:
The Collaborative for Academic, Social, and Emotional Learning (CASEL)
ALL teachers who continue to center SEL in their instruction and classroom culture
Why SEL?
In the midst of a global pandemic and social justice movement, learning has been disrupted. Educators, students and families are adapting to our new 'normal' with a fresh focus on public health and social justice. Classroom environments have been changing: some remaining in-person, others transitioning to remote learning, and many moving toward a hybrid of these two options. Conversations have also evolved, highlighting the mission of the Black Lives Matter movement and the importance of diversity. In all of these cases, there is a common thread: The need for social and emotional learning for our students has never been greater.
There is no doubt that the quick transition away from traditional learning has been more challenging for some students than others. In many cases, students are asking questions that we—as educators, parents and role models—are struggling to answer for ourselves. Each question serves as a bold reminder that education extends far beyond the traditional subjects of math, history, science and language arts. Our physical learning environments may have changed, but the way we care for students has remained consistent. Now more than ever, we are reminded of the importance of a holistic lens to build skillsets of strength, resilience, compassion, and inclusion in our students, families, classrooms, and communities.
In order to help students make sense of the realities of the world we live in, educators worldwide are placing a renewed focus on Social and Emotional Learning due to the critical role it plays in helping students identify and regulate emotions, negotiate challenges, balance relationships, embrace differences and handle change. In short, SEL could be considered the backbone of a student's character development.
New to SEL?
The goal of SEL is to foster the development of five (5) interrelated competencies including, but not limited to:
Self-Awareness: The ability to recognize one's emotions and how they influence behavior.
Self-Management: The ability to regulate and manage one's emotions, impulses and goals.
Social Awareness: The ability to recognize and respect the perspectives and emotions of others.
Relationship Skills: The ability to establish healthy and diverse relationships.
Responsible Decision-Making: The ability to incorporate ethics, safety and consequences into constructive and respectful choices.
By infusing SEL into the curriculum, we provide students with additional opportunities to build emotional intelligence and become responsible global citizens—key attributes that contribute to personal and professional success.
Just as iRobot believes STEM access is a path for equity, SEL is also a critical component for short-term and long-term success. With the addition of an SEL category in our Learning Library, iRobot™ Education's hope is to help families, educators and lifelong learners facilitate conversations about Social-Emotional Learning and continue to empower teachers and families in making these activities and discussions a staple of the education experience.
Looking for resources to help infuse SEL into your curriculum? Discover our learning library!